EMPTY (frosted glass) cobalt-blue bottles, as may be required.
For use with Blue Lotus HomeBrrewed DIY Kits.
The combination of black silicon vacuum bulbs with gold caps is especially attractive.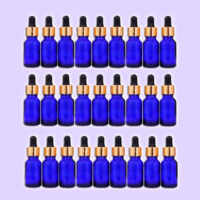 The cobalt blue glass is frosted and adds a nice touch when preparing gifts for friends and family.
These bottles are well-suited for producing one-month supplies of Blue Lotus extraits, tinctures, and liquid concentrates for herbal tea blends.
All Profits to TeslaEarth not-for-profit NGO Bio-Rejuvenation